A home wouldn't be complete....
A home wouldn't be complete without a stunning fireplace and there is nothing like a cast iron fireplace to enhance your living room, bringing warmth and elegance to your home. Hours are spent in front of a glowing fire during cold winter days and nights and it's a wonderful feeling to sit in a warm cosy, comfortable room with an attractive fireplace as a centerpiece to your home. A fireplace is responsible for the charisma and charm of a living room and is normally the main focus when entering a room. People often spend a lot of money in finding ways in which to improve their living room and create a warm and cosy ambiance but with a stunning fireplace and, in particular a cast iron fireplace, this is easily achievable. As one of the most popular fireplaces on the market today, due to its exquisite and intricate designs and flexibility of being suitable for most family homes. They are very cost effective and long lasting and come in neutral colors such as black, grey and silver, so they are suitable for all types of decor, creating a traditional or even a modern look to your home.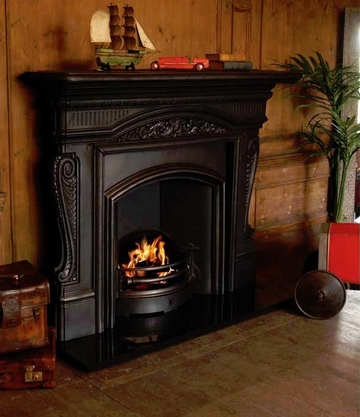 Cast iron fireplaces are practical and one of the benefits of owning a one is that it is suitable for either gas or even solid fuel and will create a warming and pleasurable appeal. There is no doubt that cast iron fireplaces are not only cost effective but are also extremely attractive, boasting wonderful designs. With so much choice available, from the more Victorian and Georgian designs to the more contemporary and sophisticated designs, it's hard not to find a Cast iron fireplace that would be ideal for your home. Cast iron fireplaces have a long standing history. Benjamin Franklin discovered that most freestanding fireplaces lost much of their heat through their sides, so it was shortly after that when David Rittenhouse made improvements to Franklin's design.
By the late 1700s, iron freestanding fireplaces were also being used as stoves in various parts of the world. Wood or coal was burned to cook the evening meal but would also keep the room warm for many hours afterwards. This made them very efficient and extremely popular. Today's modern freestanding and built in fireplaces are made from the finest iron material on the market. Whatever design you choose, you will have the pleasure of owning a very fine fireplace and no matter what size room you have, you can create that wonderfully cosy feel to suit your home. It's hardly surprising why cast iron fireplaces have now made such a huge come back and are so popular today.
Click the link to view the range of Cast Iron Fireplaces http://www.acereclamation.com