HOW DO YOU FASTEN SLEEPERS TOGETHER?
Everyday we get enquiries from customers asking how to bolt together railway sleepers & large timbers. In the past we'd have mentioned coach bolts and pre-drilling, and socket sets etc.. NOW we always say "TIMBERCUT"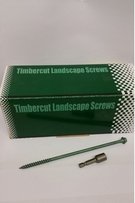 TIMBERCUT - the hardsell... !
- installs much faster and easier than coach screws or coach bolts
- generally requires no pre-drilling, except for particularly tough tropical hardwoods and sometimes oak railway sleepers.
- countersinks flush into timber
- draws warped beams down
- can be removed and reused
- eliminates jarring and damage caused by a sledge hammer
TimberCut screws are guaranteed not to rust in pressure treated timber for the life of you project, although it doesn't apply in saltwater settings. Likewise a small percentage of screws may eventually rust when in connection with the tannins of green oak railway sleepers.